Home Page
|
About Maui
|
About Me
|
Buy & Sell
|
MLS
|
News & Info
|
Own a Maui Condo
|
Visit Kauai
|
Join eXp Realty

Homeowners--Get an instant valuation of your home--Anywhere in USA
Central Maui Properties
(includes Kahului, Kahakuloa, & Wailuku)
Central Maui is the valley part of "The Valley Isle". It's the location for the major airport and all the large businesses. It's also home to what is Maui's hottest real estate sales market. Central Maui includes Kahului and Wailuku plus Kahakuloa which is lumped in with the rest even though not directly in the valley.
Satellite View
|
Street View
|
Image
---
Central Maui has a wide range of properties and values. Owners considering selling can contact me for a comparative market price analysis on your particular property. There is no charge for this service.
Current Listings
---
Central Maui Property Values Continue to Increase
Central Maui remains a "hot" market with properly-priced properties selling quickly. The chart below is an average for all of Central Maui showing the price trend over the last 3 years. The chart is provided by a 3rd party and is based on current Maui MLS sales data. It expires periodically so please send me a message if the image no longer appears below.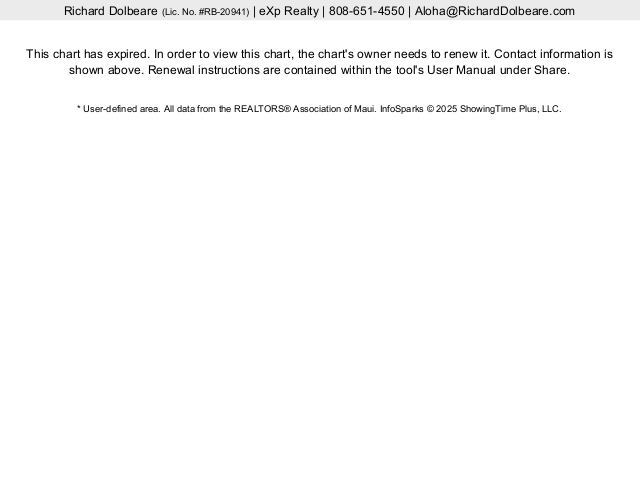 ---
Buyers: Richard Dolbeare can provide buyers with updated, unbiased information, all without cost or obligation. For the advantages of free buyer representation, contact him as your important first step.
Sellers: For owners who wish to sell, Richard will assist with the sale process, provide broad exposure of the property to potential buyers, and work with escrow in completion of the sale. There is no fee until the sale is completed. Ask about his marketing plan.
Disclaimer: Information herein is presented in good faith but may contain some inaccuracies; information deemed important to a decision to buy or sell should be independently verified.
Contact Richard Dolbeare, a Certified Residential Specialist, for additional information.
Information herein is deemed reliable at time of publication but has not been independently verified and is not guaranteed.

Richard T. Dolbeare, R(B), ABR, CRS, e-PRO, RSPS, BS/MS | (808) 651-4550 | Aloha@eXp808.com | HI Lic. # RB-20941
eXp Realty, 500 Ala Moana Blvd., #7-400, Honolulu, HI 96813